Adjustable Size Labels for a variety of tasks such as:
Product Labelling.
Carton Labelling.
Envelope Labelling.
Shelf Edge Labelling.
And many other uses!
When printing labels off continuous rolls in either portrait or landscape format using a Thermal Transfer or Direct Thermal label printer fitted with a cutter the labels can be cut to the user's chosen lengths without the need for changing to a roll of different sized die cut labels!
We can supply rolls in a variety of different materials, colours and with permanent or peel off adhesives for printing labels. The continuous rolls are scored along the length of the roll of media with a small gutter just a few millimetres wide. The label printer is set to cut the roll of material at the chosen length. With the scored slit making a small gutter it is easy for the user to peel the label off the backing paper!
See below pictures of examples of Portrait and Landscape Adjustable Sized Labels.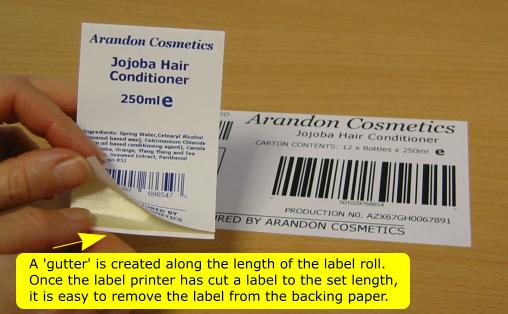 Enlarge picture of Adjustable Size Label in Portrait Format
Enlarge picture of Adjustable Size Label in Landscape Format


If you require further details on Adjustable Sized Labels call us on 020 8464 5492.