Suppliers of Point of Sale Equipment,
Barcode, Labelling & Ticket Software,
Receipt, Barcode, Label & Ticket Printers,
Labels, Tickets, Tags
for many applications.

Call 020 8464 5492 E Mail sales@beechman.co.uk
We can offer a Golf Bag Tag Printing System with Ticket Printer, Software, Waterproof Self Tie Loop Lock Labels to create and print your own Golf Bag Tags on demand with sequential numbers, barcodes, date and time stamping, name of player and other functions as required. See Software for creating your own Tickets with Event Description, Sequential Ticket Numbers and Barcodes, Date, Time Stamp and many other features We can supply tickets and a ticket printer as required or tickets to suit your own printer especially Boca, Citizen, Datamax, Datamax-O'Neil, Intermec, Kroy, Sato, Star Micronics, Toshiba TEC, TSC, Wasp, Zebra printers and also other makes of ticket printers.

We can also offer a printing system and the supply of Green Fee Tickets for printing on demand.

Enlarge illustration below of Self Tie Loop Lock Label can be printed on a Thermal Transfer printer and/or hand written on.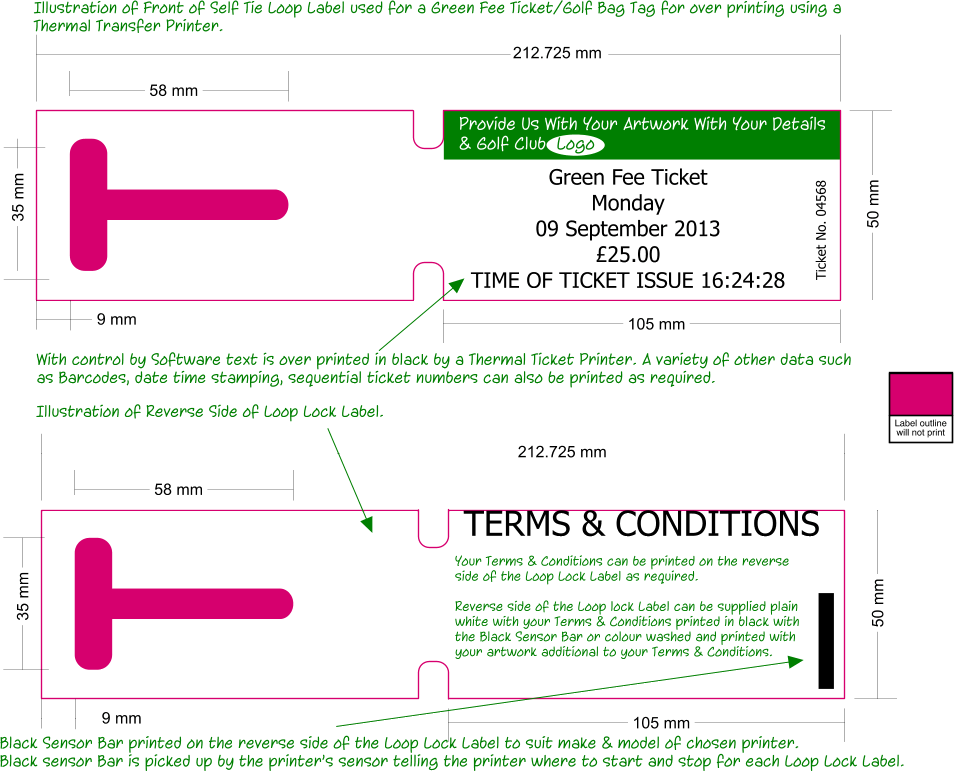 Enlarge illustration below of Tie On Green Fee Tag for hand writing on and affixing to Golf Bag