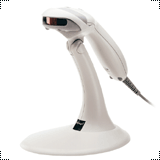 Honeywell 9520 Voyager & 9540 Voyager Laser Barcode Scanner
Single Line Laser Barcode Scanner
Honeywell Voyager 9500 series of hand-held, single-line laser scanners offer aggressive scanning of all standard 1D barcodes.

The Voyager series of hand-held, single-line bar code scanners have united form with function in becoming the industry benchmark for value and performance.

These sleek scanners feature patented automatic infrared activation and decode all standard 1D bar codes, including GS1 DataBarTM (formerly known as RSS codes).

VoyagerCG 9540 also includes patented CodeGate technology which allows the user to easily target the desired bar code and complete data transmission with the press of a single button.
For presentation scanning, Honeywell offers a stand with automatic in-stand detection technology.

Honeywell 9520 Voyager Laser Barcode Scanner
Honeywell MK9520-37A38 Voyager Laser Barcode Scanner, Black Case with USB Interface. Warranty 5 Years RTB. £99.00 Ex. VAT.
Honeywell 9540 Voyager Laser Barcode Scanner with CodeGate Technology
Honeywell MK9540-37A38 Voyager Laser Barcode Scanner, Black Case with USB Interface. Warranty 5 Years RTB. £115.00 Ex. VAT.

Download pdf brochure of the Honeywell Voyager 9520/9540 Laser Barcode Scanner