Suppliers of Point of Sale Equipment,
Barcode, Labelling & Ticket Software,
Receipt, Barcode, Label & Ticket Printers,
Labels, Tickets, Tags
for many applications.

Call 020 8464 5492 E Mail sales@beechman.co.uk
Print your own Labels, Tags, Tickets as required with or without Barcodes

to give you flexibility to pre-print your own Labels, Tags and Tickets on demand. Print your own product, carton, pallet, shipping and address mailing labels required.

New to Barcodes? Need to have your own unique Barcodes for selling in retail environments? - then contact GS1 UK



Labels, Ribbons & Media

We can offer a wide range of solutions and media for labelling. We can supply a wide range of labels with different adhesives to suit different applications in suitable Direct Thermal or Thermal Transfer material. We also can offer a wide range of non adhesive media, Self Tie Loop Lock Labels, Tags, Tickets and appropriate ribbons to suit Thermal Transfer Labels and media - see examples We can also offer pre-printed labels and media printed with your artwork for over printing.

Direct Thermal & Thermal Transfer Label Printers See wide range of Direct Thermal & Thermal Transfer label printers by Datamax, Kroy, Star, TEC and Zebra

Label & Barcode Printing Software
dLSoft AnyLabels software for use on Windows 10 and Windows 11 for label & barcode printing from £195.00 + VAT for use on 1 PC or £447.50 + VAT for use on up to 10 PCs. Labels can be sequentially numbered, batch numbers, barcoded/sequentially barcoded, date and time stamped, easy selection of type of label. dLSoft AnyLabels can link via ODBC to popular programmes such as Microsoft Excel, Access, .CSV etc.

Now includes support for tables as illustrated below. Table data may be fixed text, data taken from database fields, or data calculated using a formula. Tables may be up to 6 columns wide and 25 rows deep, and columns may have their contents left, right or centre aligned. Ideal for labelling food products with nutritional values and allergen information.

For regulations on food labelling you can find further information the Food Standards Agency web site. To confirm exactly what you need to print on your labels we recommend you contact your local Trading Standards officer.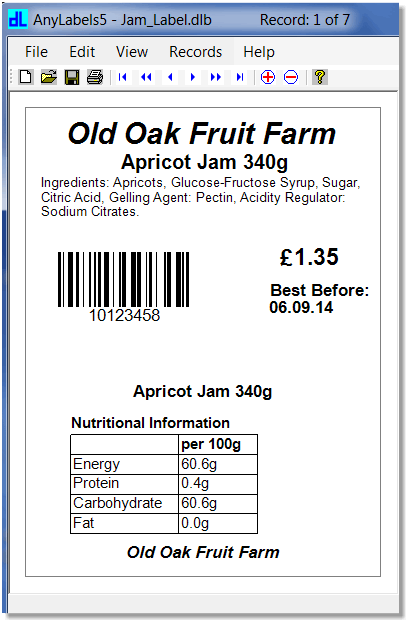 Using dLSoft AnyLabels ingenious Barcode driver permits records to be displayed, copied or printed on a barcode scan. dLSof AnyLabels own read/write databases may also have date/time recorded or a value added to a field on a barcode scan. We can supplier Barcodes Scanners for scanning barcodes with USB Interface for use with dLSoft AnyLabels.

Alternatively with dLSoft AnyLabels Selection View allows records to be printed by mouse click or touch screen press for easy selection of label type.

Example of label with product image. AnyLabels can print to Windows driven printers capable of printing in colour.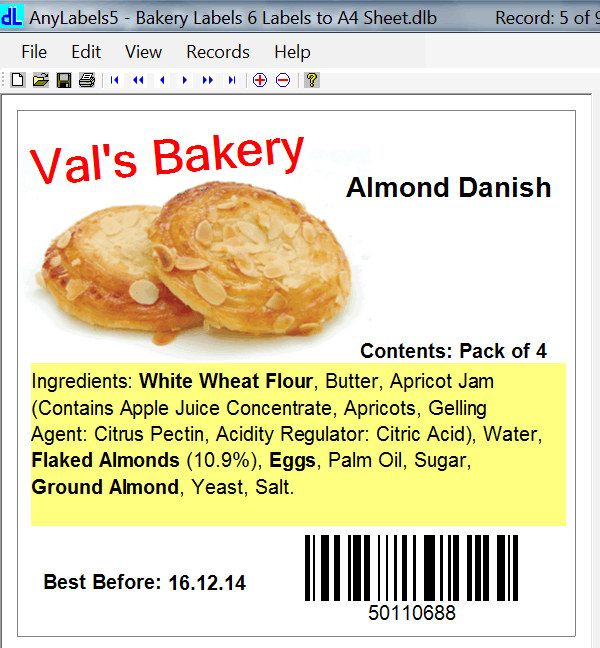 Example of label created in dLSoft AnyLabels label as seen below.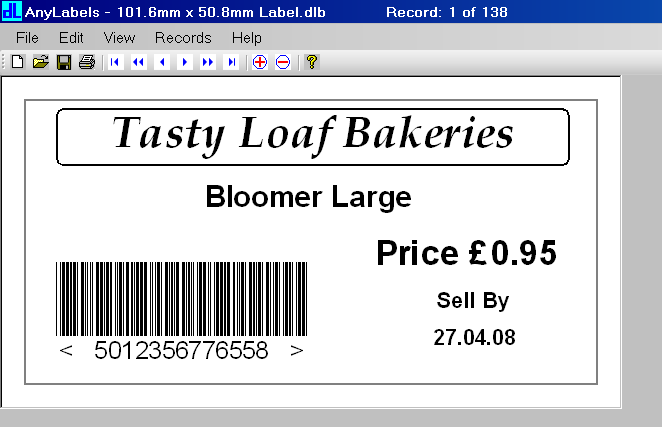 dLSoft AnyLabels Selection View simply chose the type of item/products you wish to print, click on it and print the label! As seen below.