Suppliers of Point of Sale Equipment,
Barcode, Labelling & Ticket Software,
Receipt, Barcode, Label & Ticket Printers,
Labels, Tickets, Tags
for many applications.

Call 020 8464 5492 E Mail sales@beechman.co.uk
Pay & Display Tickets can be supplied to suit a wide range of Direct Thermal Ticket Printers. The Parking Ticket on the ticket face is printed on a Direct Thermal Printer, on the reverse side of the ticket is a label with a removable adhesive. The label is removed and affixed to the back of the ticket so the combination of ticket and label can be affixed to the inside of a vehicle's windscreen as illustrated in the picture below.

This combination of Tickets & Labels can also be used for a variety of applications in additions to parking, motor traders, car hire companies, vehicle storage, caravan and camping sites, glazing companies, temporary notices to be displayed in windows.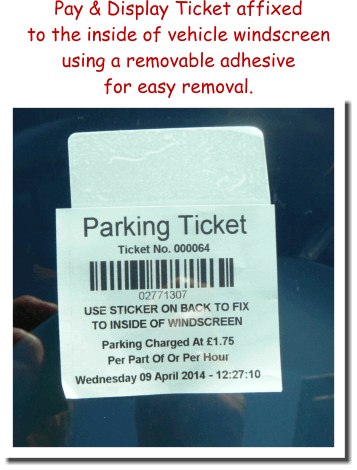 Tickets can be supplied pre-printed on the Direct Thermal Ticket face or on the removable label with your artwork, which could also include a sponsor's advert.

We can supply a printing sytem with a suitable Direct Thermal Printer to print on demand on the tickets and Windows Software that can print the required data on the ticket such as Date, Time, Barcodes, Sequential Numbers and other data as required.
Call us on 020 8464 5492 for further details.