We can supply Direct Thermal Tickets with Holograms and also a Hi Lustre Silver Foil or Gold Foil as security aids available in a wide variety of sizes for Appointment Cards, Coupons and Vouchers as Fan Fold Tickets with perforations between the tickets and optional Perforated Tear Off Stubs in a variety of sizes or can also be supplied on Continuous Rolls of Ticket Paper for a wide variety of uses. Tickets can be supplied blank plain white or colour washed or printed with your own design on the ticket face or reverse side of tickets.

We can offer a Ticket Printing System with a Direct Thermal Ticket Printer, Software and Direct Thermal Tickets to create and print your own tickets on demand with sequential numbers, barcodes, date and time stamping and other functions as required. See Software for creating your own Tickets with Event Description, Sequential Ticket Numbers and Barcodes, Date, Time Stamp and many other features We can supply tickets and a ticket printer or tickets to suit your own printer especially Boca, Citizen, Datamax, Datamax-O'Neil, Godex, Intermec, Kroy, Sato, Star Micronics, Stimare, Toshiba TEC, TSC, Wasp, Zebra printers and also other makes of ticket printers.
A wide range of Direct Thermal Tickets can be created for an extensive range of applications such as Admission Tickets, Airline Tickets, Auction Tickets, Audience Tickets, Amusement Park Tickets, Baggage Tickets, Betting Slips, Boarding Cards, Boarding Passes, Boat Tickets, Camp Site Tickets, Caravan Site Tickets, Car Park Tickets, Cinema Tickets, Club Tickets, Concert Tickets, Conference Badges for Guests, Coupons, Ticket Printers printing to Tickets Rolls, Delivery Notes, Dinner Dance Tickets, Disco Tickets, Electrical Repair Tickets, Entrance Tickets, Event Tickets, Exhibition Tickets, Ferry Tickets, Football Tickets, Gig Tickets, Green Fee Tickets, Job Tickets, Kiosk Tickets, Luggage Tickets, Match Tickets, Museum Tickets, Night Club Tickets, Orchestra Tickets, Passenger Tickets, Raffle Tickets, Repair Tickets, Sale Tickets, Swing Tags, Swing Tickets, Seat Tickets, Shelf Edge Tickets, Shoe Repair Tickets, Show Tickets, Sports Events, Stadium Tickets, Stately Homes, Theatre Tickets, Theme Park Tickets, Transport Tickets, Bus Tickets, Coach Tickets, Railway Tickets, Train Tickets, Tram Tickets, Visitor Tickets, Tickets with Counterfoil, Tickets with Photo ID, Tickets with Perforations, Tickets with 2 Part Perforated Tear Off Stubs, Vouchers, Travel Tickets, Weighbridge Tickets.
See Tickets on Continuous Rolls of Ticket Paper Ticket Printer can cut the ticket to your chosen length!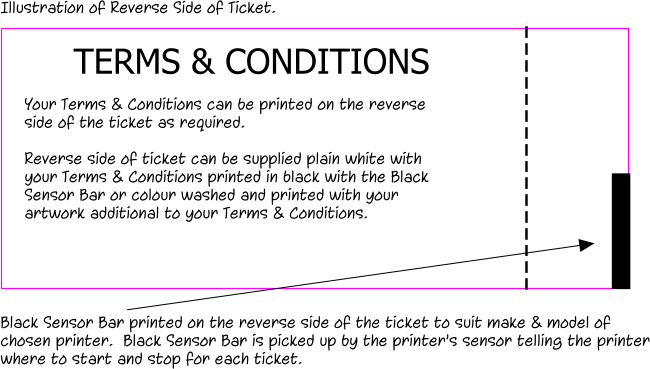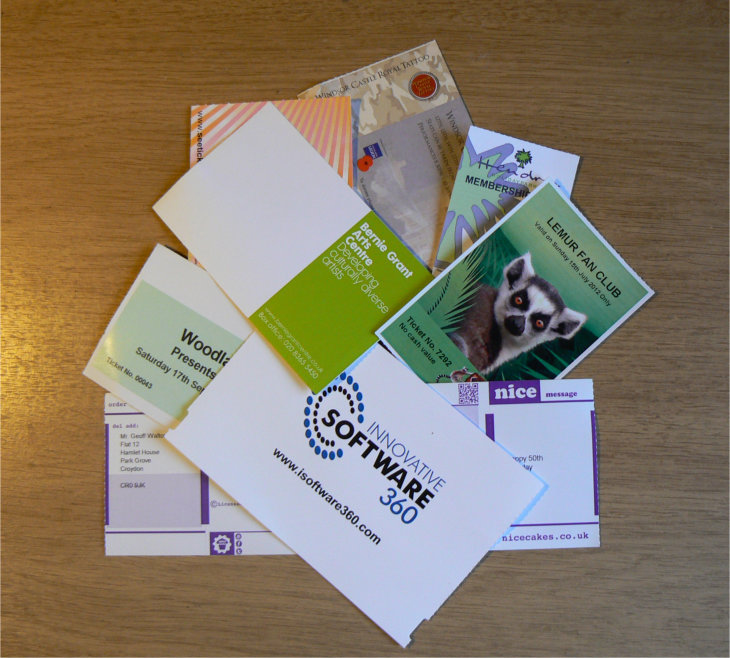 Enlarge picture of Printed Direct Thermal Tickets



Enlarge picture of Plain White blank Fan Fold Tickets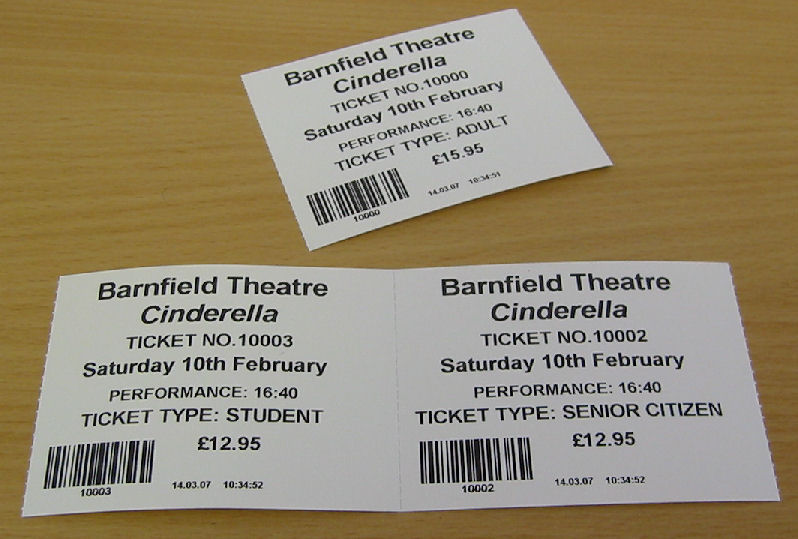 Enlarge picture of Plain White Fan Fold Ticket that
has been over printed on a Direct Thermal Printer
Enlarge picture of Colour Washed Fan Fold Tickets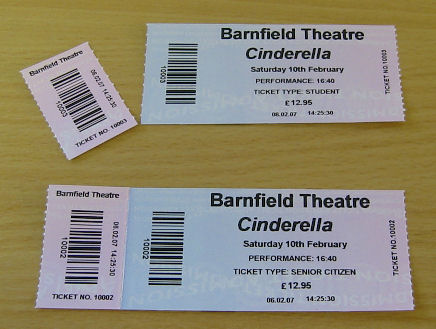 Enlarge picture of Colour Washed Ticket with Tear Off Stub
that has been over printed on a Direct Thermal Printer




See also Tickets on Continuous Rolls of Ticket Paper

Call us on 020 8464 5492 for further details.