Print your own Plastic ID Cards, Membership Cards, Business Cards, Vouchers, Promotional Cards, Loyalty Cards, Discount Cards, Schools, Libraries, Telephone Cards, Retail Store Cards, Luggage Cards etc. and many more applications which can be produced with Photographs, Barcodes, Magstripe as required.

Zebra ZXP Series 7 Single Side Printing Colour Plastic Card Printer, USB & Ethernet Interface. Warranty 2 Years RTB. £1,123.00 Ex. VAT.
Zebra ZXP Series 7 Dual Side Printing Colour Plastic Card Printer, USB & Ethernet Interface. Warranty 2 Years RTB. £1,363.00 Ex. VAT.

Download pdf brochure of the Zebra ZXP Series 7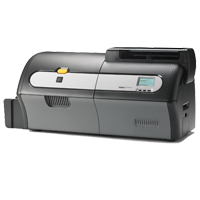 Printing & Laminating Specifications

Colour dye sublimation or monochrome thermal-transfer printing
Single- and dual-sided printing
Near-photographic print quality
Edge-to-edge printing on standard CR-80 media
Simultaneous printing, encoding and laminating capability
One-pass single- and dual-sided wasteless lamination
1,375 cards/hour monochrome single-sided or 555 cards/hour dual-sided printing
300 cards/hour full-colour YMCKO single-sided printing
225 cards/hour full-colour YMCKOK dual-sided printing
270 cards/hour full-colour YMCK single-sided printing with lamination
200 cards/hour full-colour YMCKK dual-sided printing with lamination



Optional Features
FIPS 201-compliant single and dual-sided laminator
Lockable enclosures and card feeder
Extended product warranty programmes
250-card capacity output hopper (30 mil)
802.11b/g wireless connectivity
Linear barcode scanner (635nm, 1mW maximum, class 2 laser product, IEC-60825.1-2001-08)

Magnetic stripe encoder
ISO 7811 (new and re-encoded, tracks 1, 2, and 3, high and low coercivity, stripe down, 30 mil card only
Smart card contact station
ISO 7816
Combined contact and contactless
MIFARE ISO 14443 (13.56 MHz)
ISO 7816 PC/SC compliant
EMV level 1 certified
50 card capacity [30 mil] external output hopper
Capable of encoding over USB and Ethernet





We can supply Plastic Cards, Ribbons, Cleaning Kits and other consunsables for the Zebra ZXP Series 7 call us on 020 8464 5492 for further details.

Zebra CardStudo Plastic Card Printers Software

Design your own plastic cards cards using with CardStudio - starting with CardStudio Classic from £52.00 Ex. VAT.

Download pdf brochure for Zebra CardStudo