Cut down on attempted fraud and crime by using special Anti Fraud Direct Thermal Security Paper. Pre Printed Water Mark disappears when photo copied! For use in Direct Thermal Receipt or Ticket Printers.

This Direct Thermal Receipt Paper is printed with a watermark which is over printed by the Thermal Transfer Receipt or Ticket Printer in normal use.

When photo copied on a mono or colour photo copier the coloured water mark disappears. If a customer returns with a photo copy of your receipt or your staff are suspicious of goods returned for warranty or refund or tickets that may not be genuine they can photo copy the receipt to test if the water mark still exists. Ideal also for combating copying of tickets for events.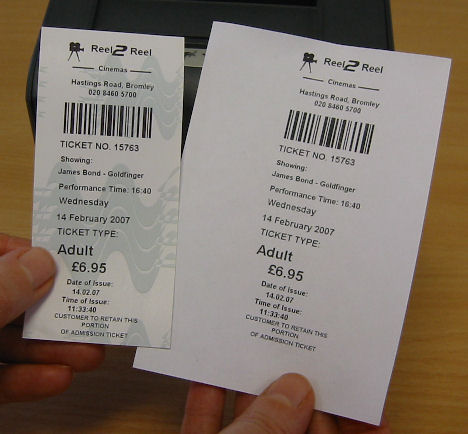 Enlarge picture on Anti Fraud Direct Thermal Security Paper and observe how the ink of the water mark has disappeared on the plain white photo copy of the receipt!

The above photograph demonstrates on the left hand side the printed thermal paper with the green watermark in the background. On the right hand side you can see the result after the thermal paper has been photo copied. The green watermark has vanished!
We can supply this special Anti Fraud Direct Thermal Security Paper. Pre Printed Water Mark disappears when photo copied in popular 80mm and 111mm widths for the following printers:
Rolls of 80mm Width
Suitable for the following Epson Direct Thermal Printers
Epson TMT88IV Epson TMH6000III

Rolls of 80mm Width
Suitable for the following Star Micronics Direct Thermal Printers
Star TSP100 Star TSP650 Star TSP700II Star TSP1000

Rolls of 111mm Width
Suitable for the following Star Micronics Direct Thermal Printers
Star TSP800
This paper is only suitable for Direct Thermal printers NOT Dot Matrix Receipt Printers