Suppliers of Point of Sale Equipment,
Barcode, Labelling & Ticket Software,
Receipt, Barcode, Label & Ticket Printers,
Labels, Tickets, Tags
for many applications.

Call 020 8464 5492 E Mail sales@beechman.co.uk
Digitally Printed Colour Self Adhesive Labels are ideal for customers who require high quality labels over multiple designs, or where the label requires variable data such as serial numbers or barcodes or shorter print runs. With the Digital Press printing CMYK colour - Cyan, Magenta, Black & Yellow with your artwork including photos which can be printed in full colour. Labels can be supplied as Paper Labels, Clear Labels and Synthetic Labels for your application.

Enlarge picture of digitally printed labels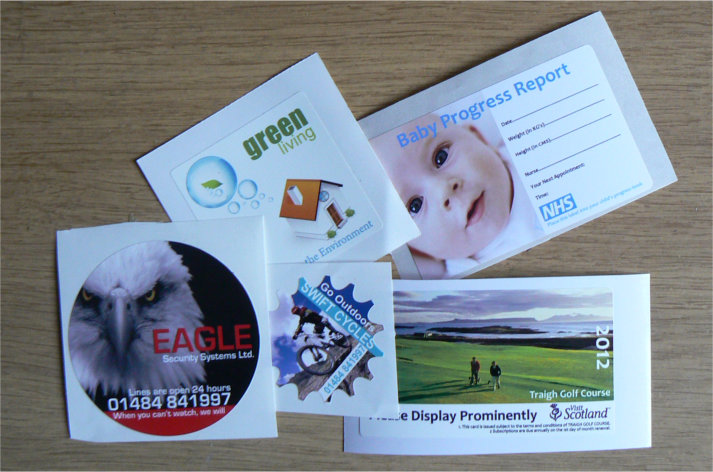 We can supply self adhesive labels as Digital Labels or Thermal Transfer Labels in a variety of sizes for use in a wide variety of applications with different adhesives to suit including permanent adhesive, hi-tack adhesive, freezer adhesive, chiller cabinet adhesive and peel off adhesive to suit pharmaceutical labels, bottle labels, asset labels, window stickers, food labels, sandwich labels, Labels for beauty products, cosmetic and toiletry products and many more applications.

Labels can be created as a generic label with your own eye catching design, artwork and colour scheme and logo digitally printed in full CMYK colour to enable you to over print on demand as many labels as you require for your different products.

We can supply a Labelling System with Software & Printer and Pre-Printed Labels, Tickets & Tags for you to over print your product, carton and shipping labels on demand to minimise wastage, this is ideal for perishable goods in particular for food, produce and sandwich manufacturers and other industries as labels can over printed with product description, ingredients, sell by dates, lot numbers, pricing, sequential numbering, batch numbers and barcodes as required.
We can supply Digital Labels, Tags & Tickets to suit your Boca, Citizen, Datamax, Datamax-O'Neil, Intermec, Kroy, Sato, Star Micronics, Toshiba TEC, TSC, Wasp, Zebra printers and also other makes of printers.
Enlarge to view picture below of example of pre-printed label with customer's artwork for over printing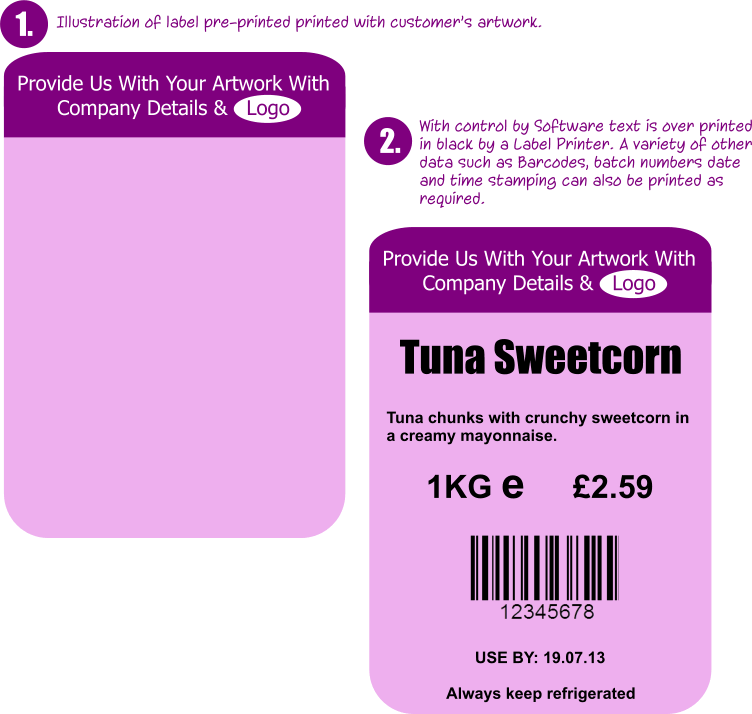 As with the labels we can also supply Pre Printed non adhesive Tags and Tickets, Appointment Cards, Tags, Tickets and Vouchers and also a printing system for you over to print on demand.

See our comprehensive range of Labels, Tags & Tickets and other media for a wide variety of applications
Call us to discuss your requirements on 020 8464 5492.