Suppliers of Point of Sale Equipment,
Barcode, Labelling & Ticket Software,
Receipt, Barcode, Label & Ticket Printers,
Labels, Tickets, Tags
for many applications.
Call 020 8464 5492 E Mail
sales@beechman.co.uk
From 1st October 2021 under Natasha's Law the requirements for prepacked for direct sale (PPDS) food labelling will change in Wales, England, and Northern Ireland. The new labelling regulations will help protect your consumers by providing potentially life-saving allergen information on the packaging.

We can supply a wide range of solutions for Labelling Food, Perishable Products and Medical applications where self adhesive labels made with a suitable adhesive for withstanding very cold temperatures for use in Chiller Cabinets and Freezers and for affixing to a variety of substrates suitable for use on Direct Thermal and Thermal Transfer Printers printing on rolls of labels & Laser Printers printing on A4 sheets of labels in a wide variety of material and colours.
We can also offer a Printing System with Printer and Barcode & Labelling Software for use on Windows 10 with suitable media for creating and printing labels for printing your food labels for your food products, product description and flavour, ingredients with allegens, nutritional information, barcodes, batch numbers, sequential numbers, prices, outer carton labels, pallet labels, date & time stamp, print Production Dates, Batch Numbers, calculate Best Before Dates, Use By Dates and many other functions.
Get ready for new labelling requirements coming into effect on 1st October 2021 under Natasha's Law. For regulations on food labelling including allergens and nutritionall information you can find further information at the Food Standards Agency web site and Gov.uk To confirm exactly what you need to print on your labels we recommend you contact your local Trading Standards officer.
We can supply pre-printed labels variety of sizes with your design from your artwork for you to over print on to suit your application which can be stored in a fridge, chiller cabinet or freezer as required.

With support for tables as illustrated. Table data may be fixed text, data taken from database fields, or data calculated using a formula. Tables may be up to 6 columns wide and 25 rows deep, and columns may have their contents left, right or centre aligned. Ideal for labelling food products with nutritional and allergen information.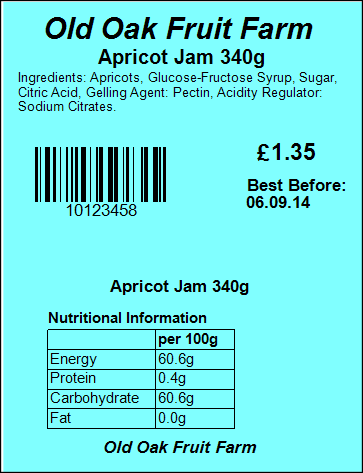 Labels can be created as a generic label with your own eye catching design, artwork and colour scheme and logo which can be digitally printed in full CMYK colour - Cyan, Magenta, Black & Yellow to enable you great flexibility with over printing on demand as many labels as you require for your different products and flavours. These labels are ideal for wide range of applications such as Take Away Food Labelling, Food Manufacturers, Bakeries, Bulk Bags, Butchers, Cash & Carry, Confectionery, Caterers, Delicatessens, Fish, Meat Packers, Produce Packers, Pubs, Restaurants, Retailers, Sandwich Makers, Wholesalers and many other applications!

Enlarge Food Label shown below Labels can be supplied with a special adhesive to suit chiller or freezer storage.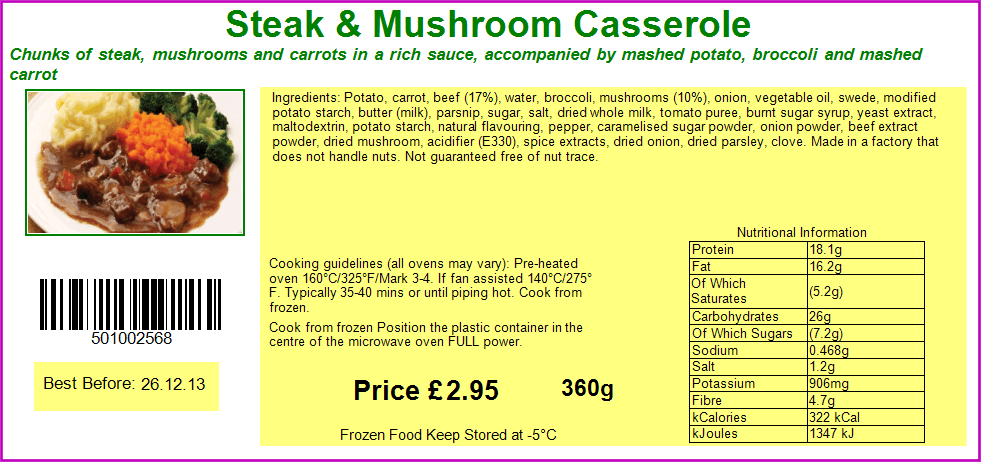 Enlarge picture below with illustration of Pre-Printed Customer Labels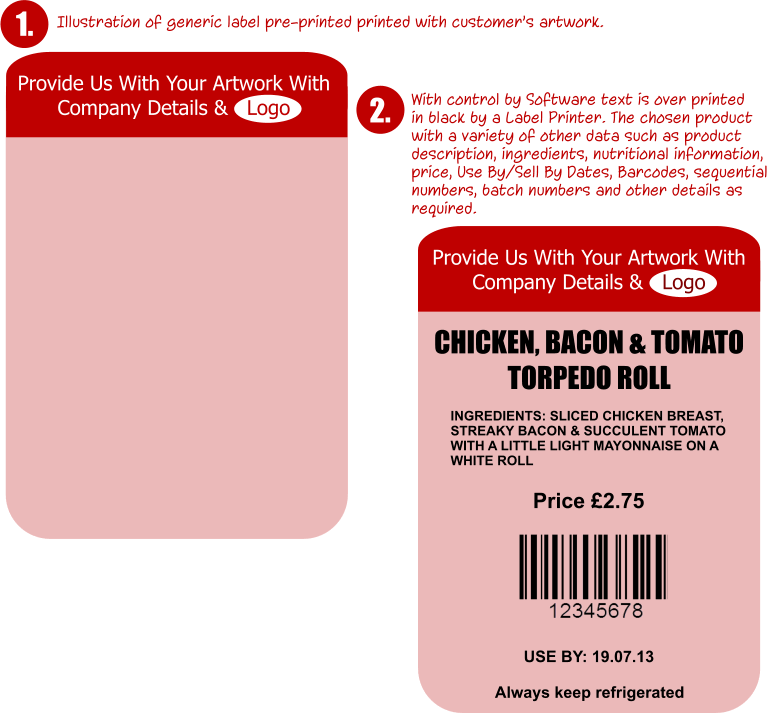 We can supply Digital Labels, Tags & Tickets to suit your Boca, Citizen, Datamax, Datamax-O'Neil, Intermec, Kroy, Sato, Star Micronics, Toshiba TEC, TSC, Wasp, Zebra printers and also other makes of printers.

New to Barcodes? Need to have your own unique Barcodes for selling in retail environments? - then contact GS1 UK

See Food Labels