Suppliers of Point of Sale Equipment,
Barcode, Labelling & Ticket Software,
Receipt, Barcode, Label & Ticket Printers,
Labels, Tickets, Tags
for many applications.

Call 020 8464 5492 E Mail sales@beechman.co.uk
Horticutural Swing Tags can be supplied in variety of sizes made of a suitable tear resistant water proof material on A4 Sheets for printing on a mono or colour laser printer or on rolls for printing on a Thermal Transfer printer. Swing Tags are ideal as Plant Labels and can be supplied in plain white, or with a colour wash or pre-printed with customer's artwork and/or for over printing on a Thermal Transfer or Laser Printer and supplied with the option of drilled holes.

Swing Tags can be supplied to suit your own printer especially Boca, Citizen, Datamax, Datamax-O'Neil, Godex, Intermec, Kroy, Sato, Toshiba TEC, TSC, Wasp, Zebra printers and also other makes of ticket printers.

When not over printing by the user in house using a printer the Swing Tags can be supplied Pre-Printed and ready Strung or with an Elastic Knot or Wire as required.


We can supply a Labelling System with Software & Printer to print text, barcodes and photos printing in colour when the printer is capable of printing in colour such as a colour laser printer.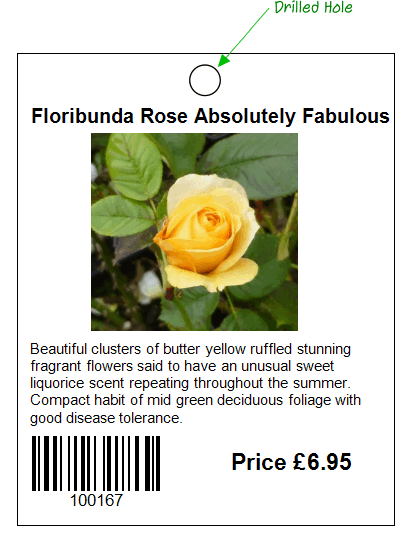 See also Horticultual Self Adhesive Labels and Self Tie Loop Lock Labels for Horticultual use.