Suppliers of Point of Sale Equipment,
Barcode, Labelling & Ticket Software,
Receipt, Barcode, Label & Ticket Printers,
Labels, Tickets, Tags
for many applications.

Call 020 8464 5492 E Mail sales@beechman.co.uk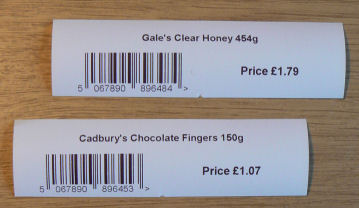 Print your own Shelf Edge Tickets and Promotional Banners on the TSC TTP-247 Thermal Transfer/Direct Thermal Printer Direct Thermal Printer in Portrait or Landscape formats which can print using True Type Fonts.

We can also supply Shelf Edge Tickets on rolls to suit the popular Zebra printers such as the Zebra LP2824, Zebra LP2844, Zebra GC420d, Zebra GK420d, Zebra ZD220D and other many other makes and models of direct thermal printers.
We can offer Software for Windows 10 or Windows 11 to create and print Shelf Edge Tickets & Banners printing Barcodes, Product Description/Size, Price and other details as required.

Enlarge picture of shelf edge tickets



For printing Direct Thermal and/or Thermal Transfer shelf edge tickets we can recommend the TSC TTP-247 Thermal Transfer/Direct Thermal Printer - Shelf Edge Tickets can be supplied in Direct Thermal or Thermal Transfer materials in various sizes and can be supplied on Rolls or Fan Folded with perforations between the tickets. Can be supplied plain white, colour washed or pr-printed with your artwork for over printing. The Kroy 4452 printer can also print to continuous rolls of Thermal Transfer or Direct Thermal Media when fitted with an optional cutter.

We can also supply shelf edge labels for many other makes of printers including Boca, Citizen, Datamax, Datamax-O'Neil, Godex, Intermec, Kroy, Sato, Star Micronics, Stimare, Toshiba TEC, TSC, Wasp, Zebra printers.

Call us on 020 8464 5492 for further details.