2 Part Direct Thermal Ticket Paper supplied on continuous rolls with a perforation running down the centre of the roll.

Lengths of Tickets when printed on a continuous roll can be adjusted by the settings in the following Star Micronics printers which can be set to cut the tickets to a variety of lengths! We can also supply Direct Thermal Fan Fold Tickets with Holograms and also a Hi Lustre Silver Foil or Gold Foil as security aids available with perforations between the tickets and optional perforated Tickets with Tear Off Stubs or Tickets on Rolls to create your own ticket printing system for your events. Tickets available in a wide range of different sizes can be manufactured with your artwork with your own eye catching design and colour scheme and logo for over printing for your events as shown in the picture below.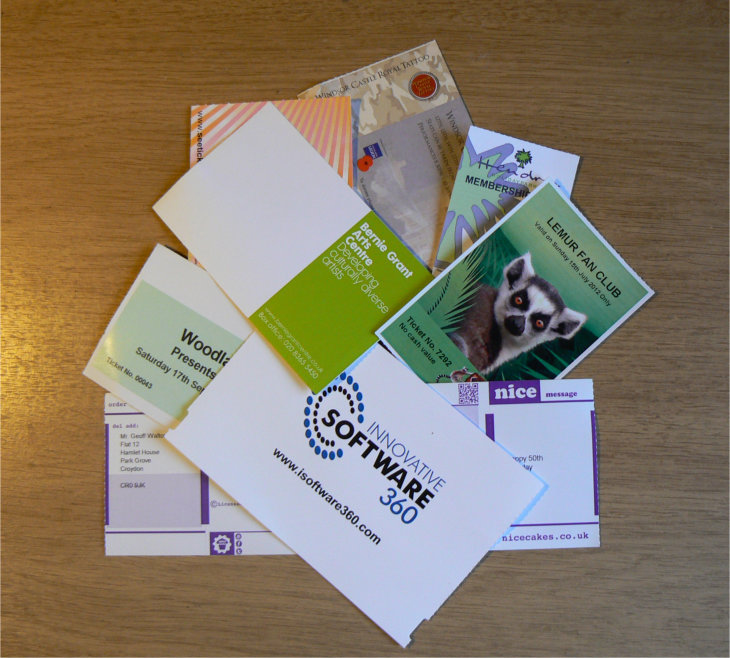 Enlarge picture of Printed Direct Thermal Tickets
We can also supply Tickets with centre perforation running down the middle of the roll easily tears in half to provide a 2 part tickets for a customer and operator copy.
Direct Thermal Tickets are ideal for printing tickets of various length for Admission, Attractions, Betting Slips, Bowling, Car Parking, Cinemas, Club, Cloakrooms, Concerts, Country Shows, Dance, Dinner Dance, Disco, Electrical Repairs, Entrance, Events, Exhibitions, Festivals, Gigs, Green Fees, Laundry, Museums, Night Clubs, River Boat Trips, Shoe Repairs, Shows, Theatres, Theme Parks, Transport Tickets, Visitors, Zoos and many other uses!

The pictures below demonstrate the 2 Part Direct Thermal Ticket with a centre perforation torn in half after printing.

2 Part Direct Thermal Ticket with a centre perforation available in widths of 80mm or 111mm.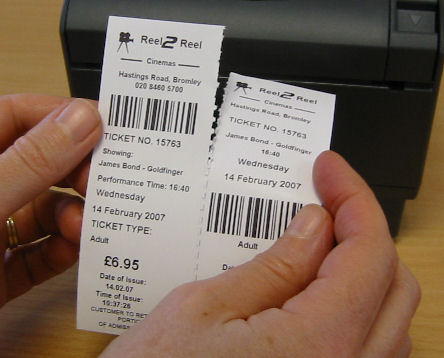 Enlarge picture of 80mm wide 2 Part Direct Thermal Cinema Ticket with centre perforation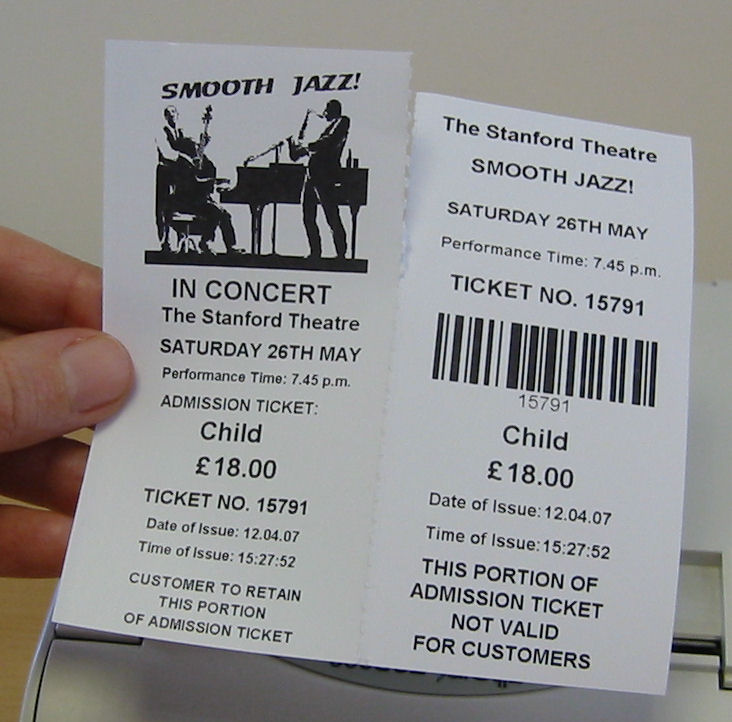 Enlarge picture of 111mm wide 2 Part Concert Ticket with centre perforation

Enlarge picture of 111mm wide 2 Part Direct Thermal River Boat Ticket with centre perforation

Enlarge picture of 111mm wide 2 Part Direct Thermal Hotel Dining Room Ticket with centre perforation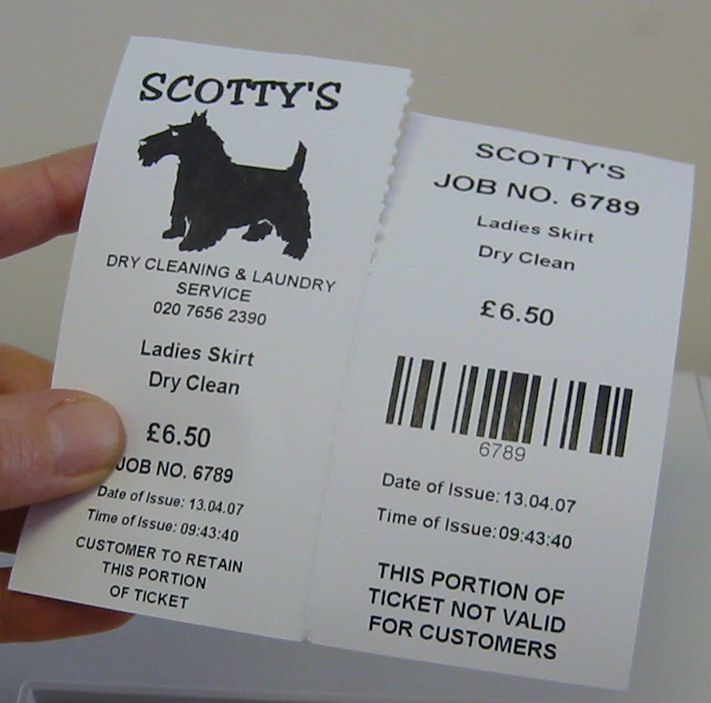 Enlarge picture of 111mm wide 2 Part Direct Thermal Laundry Ticket with centre perforation

We can supply this special 2 Part Direct Thermal Ticket in popular 80mm and 111mm widths and also in the following colours white, blue, green, pink, yellow and orange for the following printers:

Rolls of 80mm Width
Suitable for the following Epson Direct Thermal Printers
Epson TMT88V Epson TMH6000III

Rolls of 80mm Width
Suitable for the following Star Micronics Direct Thermal Printers
Star TSP700II Star TSP1000

Rolls of 111mm Width
Suitable for the following Star Micronics Direct Thermal Printers
Star TSP800II

Also see ...
Cut down on attempted fraud and crime by using special 'Disappearing Water Mark Ink' Thermal Transfer Paper in your Thermal Receipt or Ticket Printers. Water Mark disappears when photo copied! See further details and picture