Do you have a problem with your parking for your event, company car park for your staff & visitors, or residents, landlord's tenants, hotel guests, customer or club members car parking spaces?
We can also offer a Ticket Print System for creating and printing your own Car Park Tickets on demand. Tickets can automatically printed with and event date or with today's date and time of issue or as season tickets with a valid to date, a unique ticket number, unique barcode, with options which can be input by the operator such a Vehicle Registration No., number of hours parking - which in turn can calculate expiry time and further additional fields if the operator so chooses. See also Pay & Display Parking Tickets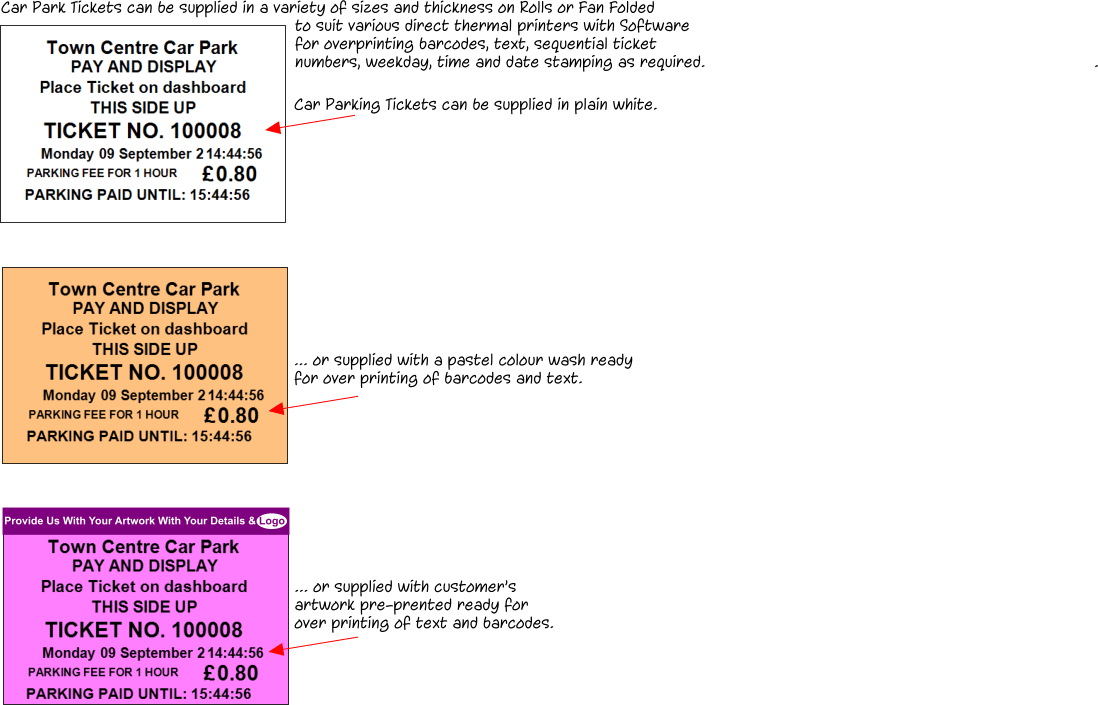 We can supply tickets for use in the following ticket machines and including kiosk printers:

Pay on Foot Systems:

ACS Reflex and Multipark Systems
Amano
Designa
Parkare XLC and Lynx Systems
Parkeon Varioflex
Skidata Magnetic and Barcode Systems
Zeag Orion

Pay & Display Machines

Alfia/Parkare: Vision Machines
Metric: Accent, Aura, Elite and Autoslot systems
Parkeon: DG4, Stelio and Strada Machines
Cale Bripark: MP104, CWT, Cale Access and POP Machines.
Hectronic Systems
WPS Systems

We can also provide a Ticket Printing System for printing Parking Permits on demand enabling the user to print data as required i.e. vehicle registration number, date of issue and/or date of expiry, make and model of vehicle and further data as required. We can offer Windscreen Pouches for inserting the Car Park Tickets or Parking Permits for affixing to vehicle windscreens.
We can supply Parking Permits with your own eye catching design and colour scheme and logo digitally printed in full CMYK colour to enable you to over print on demand as many Parking Permits as you require.
Print Parking Tickets on Rolls, which you can see directly below also take a look at A4 Letter with incorporated plastic Parking Permit Pouch for affixing to Vehicle Windscreen! Comes with a Hologram and can be printed in colour!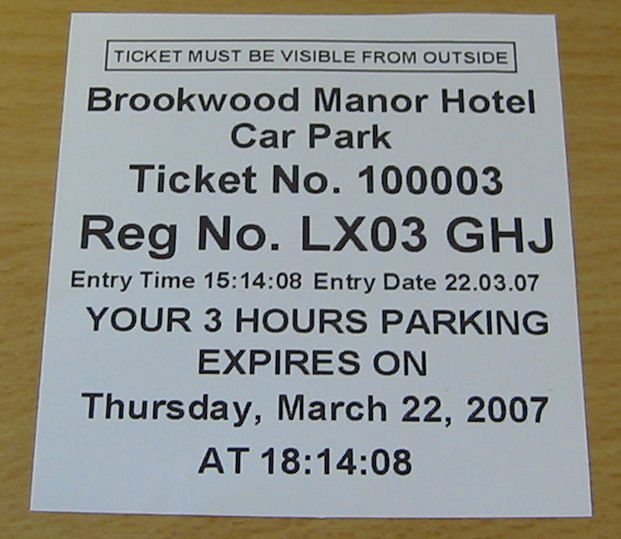 Enlarge picture of Car Park Ticket
We can offer various 'Security Papers' to help cut down on attempted fraud and crime by using special Anti Fraud Thermal Security Paper Pre Printed Water Mark disappears when photo copied! For use on a Direct Thermal printer printing Direct Thermal Receipts or Direct Thermal Tickets.

Suitable Printers for printing Car Park Tickets on Direct Thermal Rolls
Direct Thermal Ticket Rolls of 80mm Width
Suitable for the following Epson Direct Thermal Printers
Epson TMT88IV Epson TMH6000III

Direct Thermal Ticket Rolls of 80mm Width
Suitable for the following Star Micronics Direct Thermal Printers
Star TSP100 Star TSP100GT Star TSP650 Star TSP700II Star TSP1000

Direct Thermal Ticket Rolls of 111mm Width
Suitable for the following Star Micronics Direct Thermal Printers
Star TSP800II
Also see Windscreen Parking Permits Windscreen Stickers
A4 Laser printable Letter with integral perforated and Self Adhesive Parking Permit for affixing to the inside of Vehicle Windscreens! Comes with a Hologram and can be over printed in colour! Print your own Parking Permits on demand!

Can be supplied as plain white for your to over print on or digitally printed CMYK with your artwork when provide in a pdf file.

100gsm A4 Laser Printable plain white paper with removable Parking Permit! Print on demand your own letter with integral Parking Permit on a Mono or Colour Laser printer on demand. Parking Permit has a laminated self adhesive border for affixing to the inside of vehicle windscreens.

We can supply software to print the contents of your letter and Parking Permit with the ability to print such data as car park location, vehicle registration numbers, description of vehicles, sequential numbers, barcodes, validity/expiry date and other details as required.

Data can be linked from popular applications such as Excel, Access and a CSV data file. Suitable for many parking and other uses where vehicles are required to display permits on the inside of their windscreens.
Enlarge picture below of A4 Letter & Parking Permit