Swing Tickets can be hand written on available with or without drilled holes and available for for a wide variety of uses such as Abattoir Tags, Addresses, Agriculture, Baggage Tags, Bag Tags, Camp Sites, Christmas Tree Tags, Clothing, Cycles, Deliveries, Electrical Repair Tags, Garments, Garden Furniture, Green Fee Bag Tags, Greenhouses, Horticulture, Inspection, Laundry Tags, Lawnmower Repairs, Luggage, Neck Tie Tags, Machinery Service and Inspection, Meat Packers, Meter Inspection, Nurseries, PAT Testing, Plants, Refuse Bags, Swing Tickets, Swing Tags, Sacks, Tents and 1001 other uses.

We can also supply tags in the following alternative materials: Tyvek Tags, PCP Tags (Plastic Covered Paper), Plastic Tags, Polyethylene Tags (Water & Tear Resistant) available in the following colours: White, Orange, Green, Blue, Pink, Yellow, Red. Tags with Paper Eyelets with a 5mm Drilled Hole. We can also have the Swing Tags, Swing Tickets, Kimble Tickets, Tie On Tags printed with your own artwork.
We can supply a Ticket Printing System with Software & Printer and Pre Printed Labels, Tags & Swing Tickets made of Direct Thermal or Thermal Transfer media for you to over print on demand your product, carton and shipping labels on demand to minimise wastage, this is ideal many applications especially for perishable goods in particular for food, produce and sandwich manufacturers, clothing, furniture and soft furnishings as Labels, Tags & Tickets can over printed with product description, ingredients, sell by dates, batch numbers, pricing, sequential numbering and barcodes as required.
Enlarge picture below with illustration of Pre-Printed Swing Tickets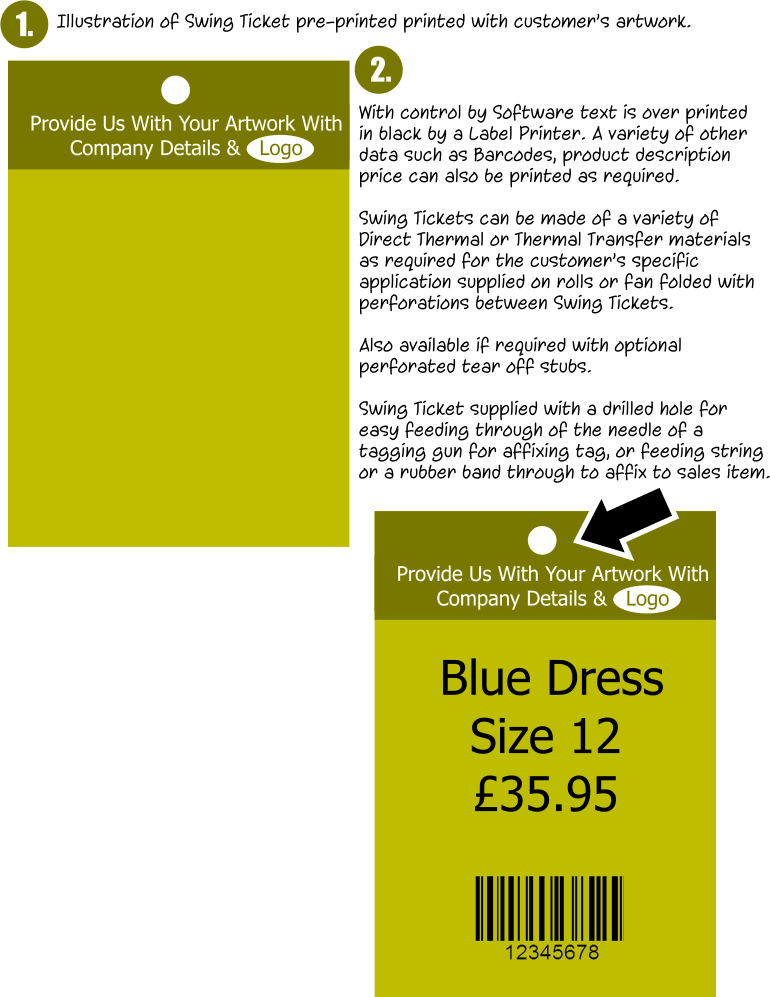 Swing Tickets or Tags can be created on plain Ticket or Tag or on a a generic Ticket or Tag with your own eye catching design and colour scheme and logo digitally printed in full CMYK colour to enable you to over print on demand as many Tickets or Tags as you require for your different items and products. We can supply Digital Labels, Tags & Tickets to suit your Boca, Citizen, Datamax, Datamax-O'Neil, Godex, Intermec, Kroy, Sato, Star Micronics, Stimare, Toshiba TEC, TSC, Wasp, Zebra printers and also other makes of ticket printers.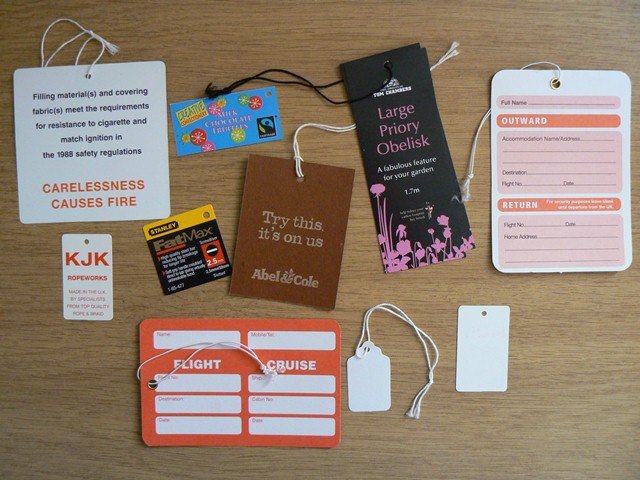 Click to enlarge picture of Swing Tags, Swing Tickets, Tie On Tags

All Swing Tickets & Tags can be supplied without or with Looped String & Washered Hole, Brass Eyelet Elastic & Knot, Cotton & Knot, 10" Wire. Can also be supplied with a perforation to create a 2 Part Tag with Tear Off Stub.

See Manilla Tags Polyethylene Water & Tear Resistant Loop Lock Labels Tyvek Tags Ideal for hand writing on or for affixing a label also available Laser Printable Loop Lock Labels