Suppliers of Point of Sale Equipment,
Barcode, Labelling & Ticket Software,
Receipt, Barcode, Label & Ticket Printers,
Labels, Tickets, Tags
for many applications.
Call 020 8464 5492 E Mail
sales@beechman.co.uk
Tie on Manilla Tags are available for a wide variety of uses with or without drilled holes and perforations available in a variety of colours fro various applications such as Abattoir Tags, Addresses, Agriculture, Baggage Tags, Bag Tags, Camp Sites, Christmas Tree Tags, Cycles, Deliveries, Electrical Repair Tags, Garden Furniture, Green Fee Bag Tags, Greenhouses, Horticulture, Inspection, Laundry Bag Tags, Lawnmower Repairs, Luggage, Machinery Service and Inspection, Meat Packers, Meter Inspection, Nurseries, PAT testing Tags, Plants, Refuse Bags, Swing Tags, Sacks, Waterproof Tags, Tents and 1001 other uses. Tags can be hand written on. We can also have Tags printed with your own artwork on 1 or both sides of tag.
We can supply a Labelling System with Software & Printer and Pre Printed Labels, Tags & Tickets for you to over print on demand your product, carton and shipping labels on demand to minimise wastage, this is ideal for perishable goods in particular for food, produce and sandwich manufacturers and other industries as labels can over printed with product description, ingredients, sell by dates, lot numbers, pricing, sequential numbering, batch numbers and barcodes as required.

Enlarge picture below with illustration of Pre-Printed Tags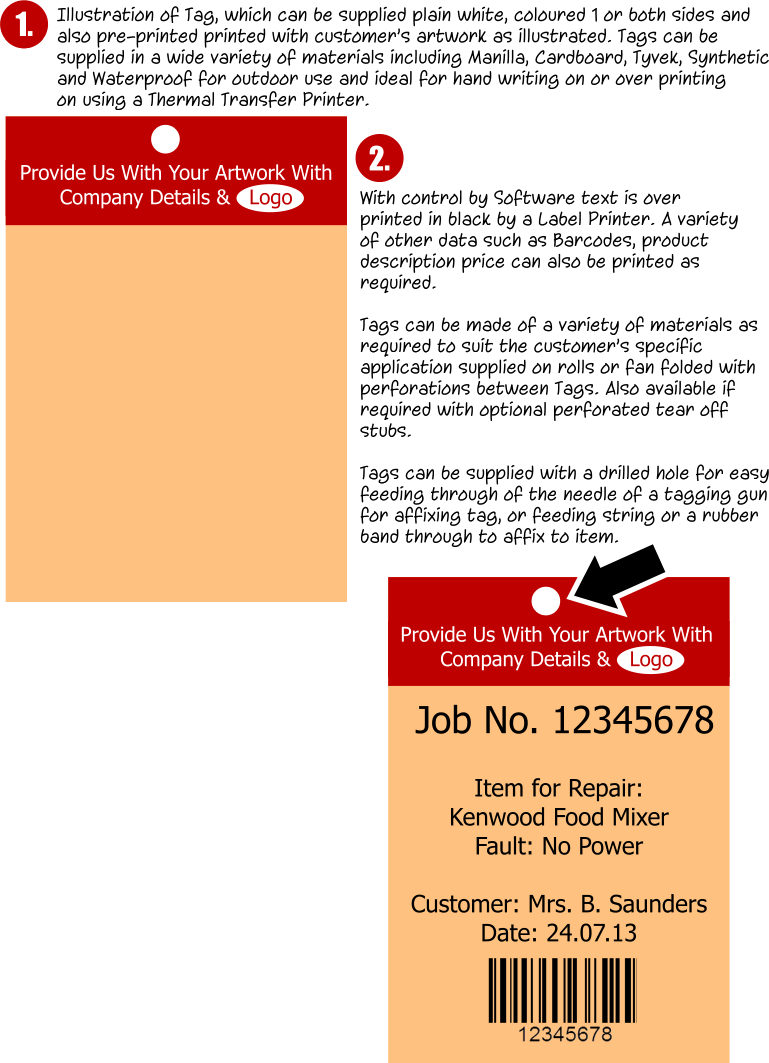 Tags can be supplied without or with Drilled Holes, Slots, Looped String, Brass Eyelet, Elastic & Knot, Cotton & Knot, 10" Wire. Can also be supplied with a perforation to create a 2 Part Tag with Tear Off Stub.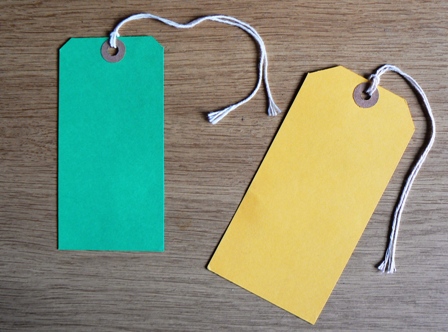 Click to enlarge picture of plain Tie On Manilla Tags

Tags available in the following sizes:
70mm Width x 35mm Depth
82mm Width x 41mm Depth
96mm Width x 48mm Depth
108mm Width x 54mm Depth
120mm Width x 60mm Depth
134mm Width x 67mm Depth
146mm Width x 73mm Depth
160mm Width x 80mm Depth
160mm Width x 90mm Depth
180mm Width x 100mm Depth




Brown Manilla Tags
Brown manilla is a material that has the shade and feel of a very traditional tag. If you are looking for that rustic recycled look this is the board we use. Tags can be made in variety of shapes and sizes.
225gsm Manilla Tags with Paper Eyelets with a 5mm Hole. Available in the following colours: White, Orange, Green, Blue, Pink, Yellow, Red. Manilla Tags are ideal for hand writing on or affixing a label.

We can also supply tags in the following alternative materials: Tyvek Tags, PCP Tags (Plastic Covered Paper), Plastic Tags, Polyethylene Tags (Water & Tear Resistant) available in the following colours: White, Orange, Green, Blue, Pink, Yellow, Red. Tags with Paper Eyelets with a 5mm Hole.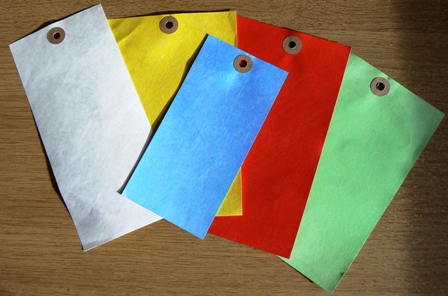 Click to enlarge picture of Tyvek Tags

Tags can be printed with your artwork as shown in picture below.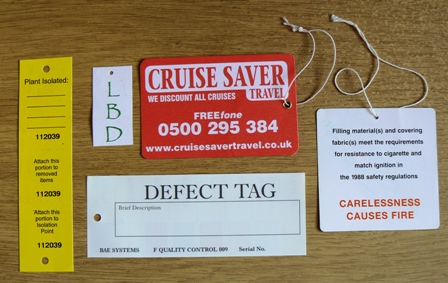 Click to enlarge picture of Printed Tags

See Polyethylene Water & Tear Resistant Loop Lock Labels Swing Tickets Tyvek Tags Ideal for handwriting on or for affixing a label also
Laser Printable Loop Lock Labels