Suppliers of Point of Sale Equipment,
Barcode, Labelling & Ticket Software,
Receipt, Barcode, Label & Ticket Printers,
Labels, Tickets, Tags
for many applications.

Call 020 8464 5492 E Mail sales@beechman.co.uk
Tie on Tyvek Tags available with or without drilled holes and perforations available in a variety of colours for a wide variety of uses such as Abattoir Tags, Addresses, Agriculture, Baggage Tags, Bag Tags, Camp Sites, Christmas Tree Tags, Cycles, Deliveries, Electrical Repair Tags, Garden Furniture, Green Fee Bag Tags, Greenhouses, Horticulture, Inspection, Laundry Bag Tags, Lawnmower Repairs, Luggage, Machinery Service and Inspection, Meat Packers, Meter Inspection, Nurseries, PAT Testing, Plants, Refuse Bags, Sew In Labels for Clothing, Garments and Clothing, Laundry Wash Care Labels, Work Wear, Swing Tags, Sacks, Tents and 1001 other uses.

Tags can be supplied without or with Looped String, Brass Eyelet, Elastic & Knot, Cotton & Knot, 10" Wire. Can also be supplied with a perforation to create a 2 Part Tag with Tear Off Stub. We can also supply self adhesive Tyvek Labels for over printing on Thermal Transfer printers.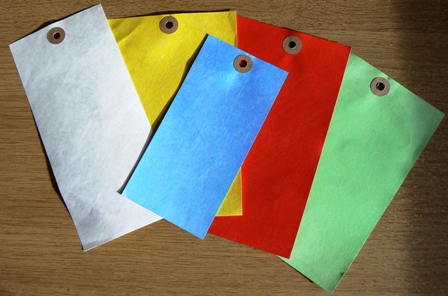 Click to enlarge picture of Tyvek Tags
Tyvek Tags can be supplied on continuous rolls or with perforations between the tags for printing on a Thermal Transfer Printer. We can supply a Labelling System with Software & Printer and Pre Printed Tags for you to over print your product details, barcodes and other details as required on demand to minimise wastage, this is ideal for sew in name labels and tags for clothing, garments especially for work wear, school uniforms, nursing homes, bedding, mattresses, fabric, bed linen, table linen, wash care labels and laundries. Data printed can include names, company names, school or nursing home names unique sequential numbering, batch numbers and barcodes and printing of various other details as required.
Click to enlarge picture of Tyvek Tags for sewing in to garments



Enlarge picture below with illustration of Pre-Printed Tags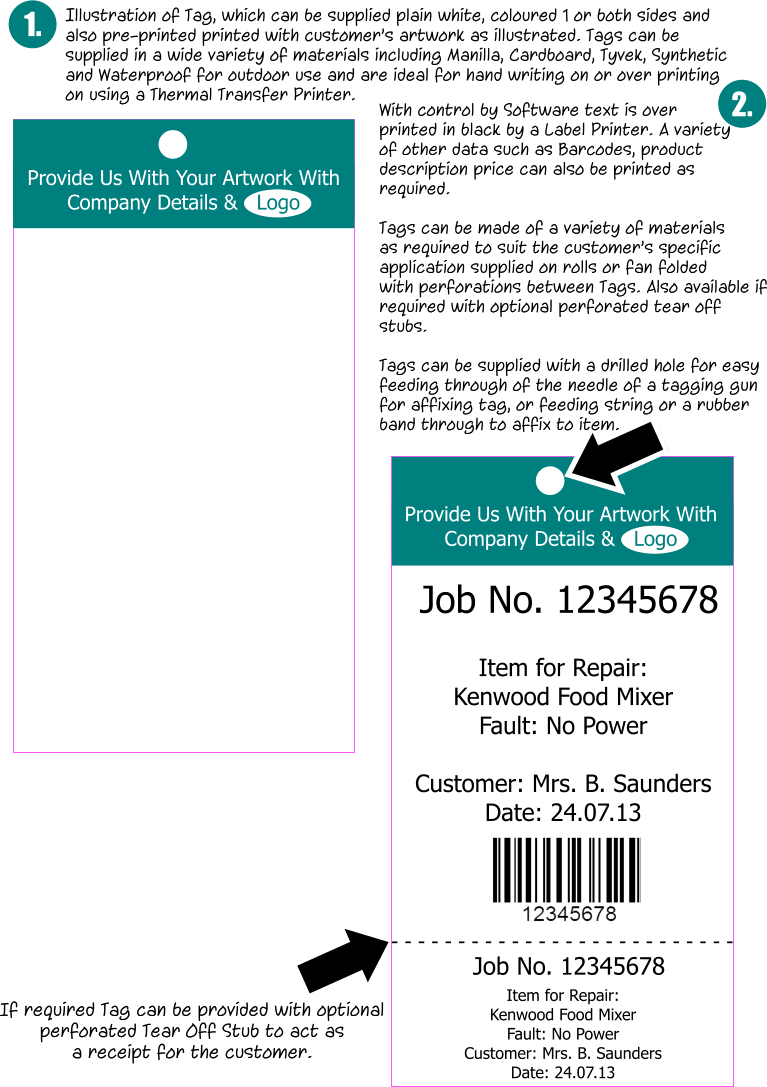 We can also supply tags in the following alternative materials: Tyvek Tags, PCP Tags (Plastic Covered Paper), Plastic Tags, Polyethylene Tags (Water & Tear Resistant) available in the following colours: White, Orange, Green, Blue, Pink, Yellow, Red. Tags with Paper Eyelets with a 5mm Hole or 8mm Hole. We can also have the Tyvek Tags printed with your own artwork.

See Manilla Tags, Swing Tickets Polyethylene Water & Tear Resistant Loop Lock Labels Swing Tickets Ideal for handwriting on or for affixing a label also available Laser Printable Loop Lock Labels