Suppliers of Point of Sale Equipment,
Barcode, Labelling & Ticket Software,
Receipt, Barcode, Label & Ticket Printers,
Labels, Tickets, Tags
for many applications.
Call 020 8464 5492 E Mail
sales@beechman.co.uk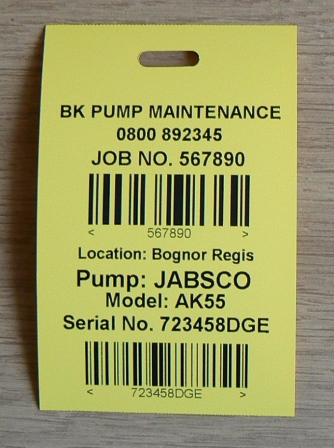 Ideal for a wide variety of applications where a waterproof label is required for labelling in damp and messy environments and where a label with an adhesive might not be suitable. Can be supplied Drilled Holes, Slots as required for ease of tying on to items with string, teie wraps, wire or elastic bands.
Suitable for use in Agriculture, Building, Garden Centres, Horticultural, Engineering, Fishing, Food, Meat Packers, Timber Industries, Labelling Machinery, Luggage Labels, Golf Bag Tags, Meter Inspection, Vehicles, Pallet Labelling and whole host of other applications.

We can supply a Barcode, Labelling, Ticket, Tag Printing System with Software & Printer and Pre Printed Labels, Tickets & Tags for you to over print your product, carton and shipping labels on demand to minimise wastage, can be printed with product description, batch numbers, pricing, sequential numbering and barcodes and other details as required.

See Manilla Tags Polyethylene Water & Tear Resistant Loop Lock Labels Swing Tickets Tyvek Tags Ideal for handwriting on or for affixing a label also available Laser Printable Loop Lock Labels

New to Barcodes? Need to have your own unique Barcodes for selling in retail environments? - then contact GS1 UK